Lieutenant Governor receives his Parish Walk finisher certificate.
Mon, 24 Jul 2023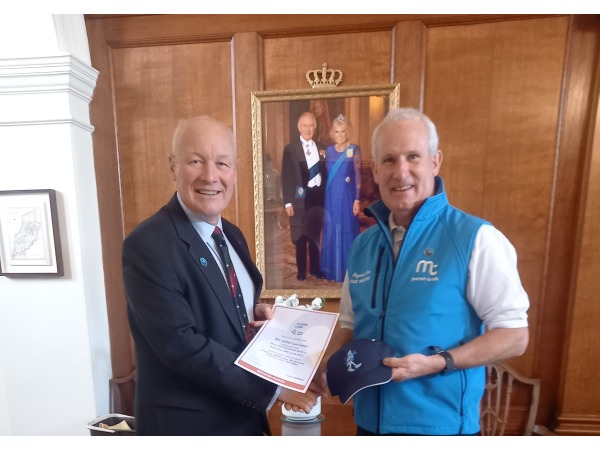 On Wednesday July 19th at Government House, Raymond Cox the Race Director of the Manx Telecom Parish Walk presented His Excellency Lieutenant General Sir John Lorimer with his finisher certificate and finisher pin. Sir John finished the full 85 miles of the 2023 Parish Walk in a very creditable time 21 hours 54 minutes and 58 seconds taking 63rd position. Unfortunately, due to official commitments, the Governor was unable to attend the prize presentation last month.
His Excellency thanked the organising team of the Parish Walk for their hard work and complimented them on a well-run event. He went on to say that his walk "was all aided and made special by the crowds and wonderful community atmosphere".
Whilst he enjoyed the event and was delighted to finish, he demurred on whether he would tackle the Parish again! In any event his effort in June makes him the fastest Governor to complete the Parish Walk.
Raymond Cox 24.07.23
---