David Cretney's Parish Walk thoughts
The following article, which originally appeared in the Isle of Man Examiner newspaper, was written by long time Parish Walk fan and three times finisher, David Cretney. Here he gives us an insight into how and why he first entered the Parish Walk and his thoughts on the event as a whole.
Former President of Tynwald Noel Cringle is an enthusiastic supporter of this iconic event. Indeed he was a competitor in the first event in the modern era in 1960. Because of him, I was encouraged to line up alongside other Tynwald Members and since then it has become an important part of my life as a competitor or spectator. As a younger man, I enjoyed cross country and middle distance running and finished the London Marathon but the Parish Walk is the most special to me.
2020 was only the third occasion since 1960 that sadly the event could not be held. It seems like 2021 could be a bumper event with the organisation reporting at the end of March that entries were higher than they ever had been at that point. I think one of the few positive aspects of the pandemic has been that more people seem to be enjoying walking and running, socially distanced, around our lovely island. It seems to me the logical next step, and to perhaps support some charities, would be to celebrate the freedom that has been hard fought for and for even more people to have a go!
It is quite clear that I am not alone in this passion. Since the 1960 event won by Stan Cleator with 4 finishers including Jim Harvey in second position, two weeks short of his 16th birthday, thousands of others have taken on their own particular challenge and goal and many thousands of pounds has been raised for good causes as an inspiration to succeed. The statistics are outstanding and I recommend a visit to the official website www.parishwalk.com or for more in depth information try and obtain a copy of the history of the event by Dermot O'Toole published to mark the centenary in 2013.
For some people once is enough, indeed 234 people have started once and finished once. Many others have tried on a number of occasions to finish and once completed, that box is ticked. For others they are bitten by the atmosphere and ultimate challenge. David Collister has started the event 40 times. Derek Harrison held the record time for 27 Years at 15:20:21 broken by Sean Hands in the first sub 15 hour time of 14:47:36 in 2006, which was incidentally the first year that I completed the 85 Miles in under 24 hours. Since 2006, Derek's time has been bettered on 15 occasions. Since 2003 there have been 38 sub 16 hour finishes by 18 competitors in total. 4 people have completed the distance in under 15 hours. The record male finishing time is held by Richard Gerrard from 2015 in 14:40:08 and female Karen Chiarello in 15:53:54.
Some people say I'm "only" going to Peel! Those who haven't worked it out already may be surprised to learn that the Parish Walk to Peel is over 32 miles. Or to put it into context, 6 miles more than a marathon! Rushen Church is 19 miles and after that you face the steep climb up Ballakillowey and the seemingly never ending slog up the Sloc. Once out of Peel, the fabulous views over the North West coast spur you on and when, after Kirk Michael, Ballaugh and Jurby with 45 miles under your belt, you have the long straight ahead of you to Bride. Maughold in the dark (I've only managed to get there once in half light) can be disorientating. There are few if any street lights and you are usually on your own by then and can hear the odd scurrying of wildlife around you!
Coming into Laxey and on to Onchan you start to feel quite emotional, thinking "I am actually going to complete the course", and this spurs you on to the promenade and the greatest feeling of achievement. There really is nothing else like it! In 2009 out of over 1300 starters I had one of my proudest moments when I finished 28th in 19:01:54. I had put in lots of training and was doing over 100 miles each week for the couple months before I left off training for the event. I have got to Peel lots of times and finished 3 times. Before I first finished I got to Lezayre at over 61 miles and I was told "You will finish next year." and they were right! I've got a sore knee now with arthritis so will have to live off the memories!
There are many stories of courage, having the inner strength to fight through when your head is advising otherwise but there are also exceptional tales to tell. Such as Edward Kelly after a brain stem stroke just 3 weeks short of his 21st birthday raised many thousands of pounds for the Manx Stroke Association by walking a few years later to the second Church. Or the late Dru Hamm a lovely girl who was born with cerebral palsy and whose outcome was predicted that she would never walk but her determination saw her take part in the event, walking to Santon. Or Army veteran Chris Moon who has only one arm and leg after a devastating injury in conflict who completed the course. Michael Gray the oldest finisher of the event, a 4 time finisher, one of only 35 starters in 1960 and also holder of the record of the longest time between finishes at 46 years! Or Bethany Clague who completed 2 consecutive laps back to back in less than 48 hours!
It is an event that requires equipment that has been tried and tested, not brand new. Particularly on a warm day but every time nutrition and taking on regular fluids, even when you may not feel like it. Training, those who turn up on the day without adequate preparation and do well are really the exception. But most of all, certainly for me it is mental agility and keeping yourself going even if it feels like it's been raining for hours or other things dwell on your mind. Focus on the next Parish and the next ...
There are many heroes so I apologise now for those not mentioned. To me, my ultimate competitor in this event is 6 time Winner John Cannell whose victories came between 1976 and 1994. Richard Gerrard and Robbie Callister on 5 wins each,Jock Waddington (all consecutive) and Derek Harrison with 4 titles each, Willie Corkill and Henry Harvey 3 each. Then the new generation with Liam Parker, the only athlete to win the Junior event to Peel (2011) to go on to win the full race in 2017 and 2019. Sue Biggart best female on 6 occasions including 5 consecutively.
How about those so near yet ... Charlie Weston was second 4 times and Ray Hughes 3rd on 5 occasions! In 1971 Graham Young took victory over Derek Harrison by 54 seconds! How about 2 brothers winning the event? Murray Lambden in 1978 and Martin in 1988. This is what memories are made of.
Last but by no means least to the organisers and sponsors, so vital in every sporting event but in particular one of such magnitude. The work for the next year commences very soon after the event. People like race secretary Liz Corran, in position since 1994. Ray Cox, Allan Callow, Winston Liu, Kevin Walmsley and hundreds of others without whom the event just could not happen including marshals,timekeepers and judges. Thank you all so much!
To the residents of the island who embrace this special event in so many ways. Individuals and businesses all the way around the 17 Parishes, food and drinks are laid on. Calls of encouragement to all the competitors whatever their goal may be. To medical and civil defence back up. Our Island at its very best!
On Saturday 19th June I will be supporting my younger Daughter Julie who came 3rd in the Junior event and went on at her first attempt to get to Jurby (45 miles) weeks before she contracted sepsis and was in intensive care for 2 weeks. I remain convinced that her training and fitness got her through this crisis.
See you on the start line? ......Good Luck to all!
David Cretney, April 2021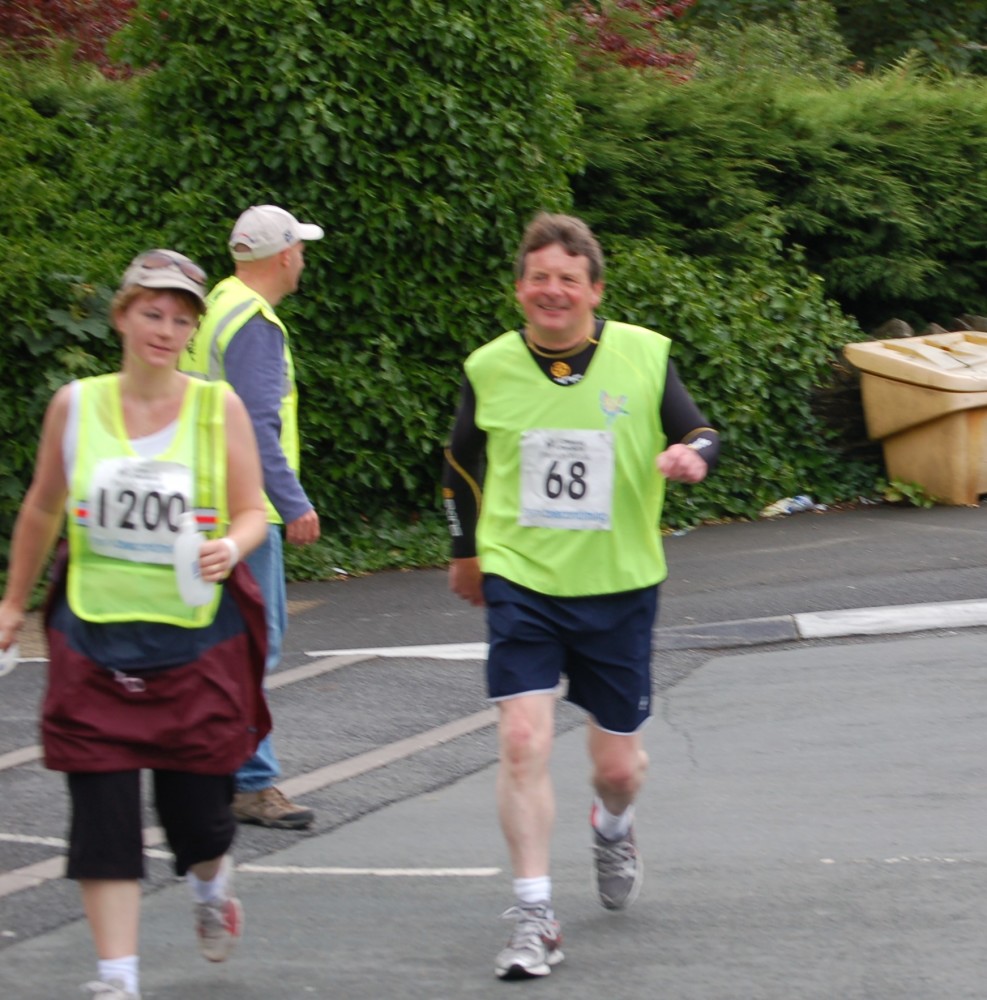 David at Union Mills in the 2009 Parish Walk.
Main Sponsors
---
Feed Station Sponsors
---
Additional thanks to
---
TOP