The 2023 event starter
The official starter for the 2023 race is Jean Oldroyd. This is a name that probably isn't familiar to everyone however Jean was the first woman to win the ladies race over the full distance three times. At the time of writing, only two other women have achieved this since Jean's ground-breaking efforts over thirty years ago!
Jean was fairly sporty in her twenties and regularly played hockey in the UK where she lived at the time. Moving to the island, she worked at Nobles hospital and would cycle from her home to work and back every day and, although she no longer played hockey, she was a keen cyclist and would cycle all over the island.
She met Sylvia Harrison who was a keen walker, and they would meet on a Monday at the TT grandstand and go for walks to chat and admire the views! Sylvia introduced Jean to another keen walker called Arthur Jones who told her that he had finished the Parish Walk in a pair of sandals! This statement sparked Jean's interest in the Parish Walk and long-distance walking. She started to train regularly with Sylvia but also with Arthur out on the island's fells and hills and they mixed in a bit of road walking too.
Both Arthur and Sylvia encouraged Jean to enter the Parish Walk and to try and get all the way round. The Parish Walk was a male dominated race in those early days with only a handful of ladies ever going beyond Peel to try and finish the whole race. As so few women had completed the 85 miles, there generally wasn't an appetite from women to 'have a go' as it were and so Jean did enter the race but with the intention of only going to Peel rather than trying the whole distance.
Jean was hugely inspired by Sylvia and also by Irene Corlett who had won the ladies over the 85 miles six years previously. Jean duly entered the 1986 race and she saw Irene at the start and in the early stages of the race, but Irene pulled away and was lost from sight. Upon arriving in Peel, Jean enquired whether Irene had carried on only to be told that she was in the town hall making cups of tea and that she had finished her race to Peel about two hours earlier!
This inspired Jean still further and she upped her training and would regularly head out the door on her own and walk for miles.
Bearing in mind that Jean was in her mid-fifties when she started her Parish Walk journey in 1986, walking the 32 miles to Peel didn't faze her at all and she embraced the challenge and successfully walked to Peel again in 1987 and 1988.
1989
The seeds for something greater had obviously been sowed in those three years because in 1989, she once again entered with the intention of completing the full distance; a feat that, in 1989, had only been achieved by six other women:
| Year | Winner | Time |
| --- | --- | --- |
| 1963 | Eunice Davies | 20:51:24 |
| 1964 | Heather Murphy | 22:37:35 |
| 1978 | Ann Sayer | 17:51:17 |
| 1980 | Irene Corlett * | 17:41:40 |
| 1983 | Caroline Convery | 23:23:46 |
| 1987 | Laurie Gale | 20:43:18 |
* Irene's first 'lap' was in 1963 when was second lady behind Eunice
The 57-year-old from Onchan was lying in fourth position when she checked in at Peel behind eventual winner Charlie Weston, Chris Keown and Tony Kneale. She lost a couple of places as the race wore on and she became fatigued however, in Jean's first finish that year, she was a fine sixth overall and the first of only three female finishers. This also meant that she was only the third local lady to finish the entire distance after Irene Corlett and Caroline Convery! Although three lady finishers sounds very low by today's standards, there were only twelve finishers in total therefore the ladies amounted to 25% of all finishers. In 2022, the ladies accounted for 42%.
There was absolutely no pomp or ceremony at the finish line, so Jean's success only witnessed by her husband and support driver and the marshals at the finish! So different to today's finish line which is a hive of activity right through the night.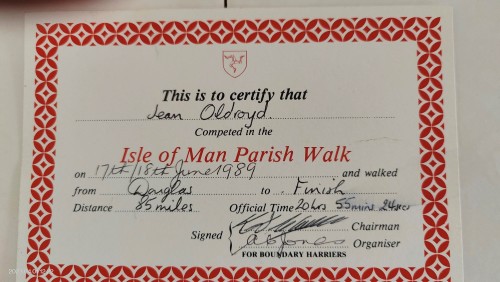 In 1990, a broken leg scuppered any hopes of competing so she instead focussed on getting fit again and entering the following year.
1991
Jean did indeed enter the 1991 event. The weather was fine at first but becoming overcast and windy later. Of the 160 starters at the Villa Marina Gardens, only nine got to the finish line on Sunday morning. As in 1989, she was supported all the way round by her husband, Brian. She survived on a combination of tried and trusted Marmite sandwiches, Mars Bars and water! She was determined to finish again and whilst plagued by blisters, she pushed on finishing in an admirable sixth place some two hours ahead of the second lady, Maureen Cox.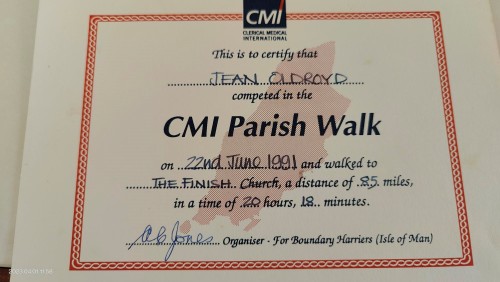 1992
In 1992, Jean turned 60 and she had been experiencing health issues which meant that she wasn't able to train as much as she would have liked. Health problems notwithstanding, she was determined to compete and to try her utmost to finish therefore she was as prepared as she could be when race day arrived. Her husband, Brian, was unaware that she would try to go beyond Peel and to get to the finish line in Douglas as they had 'agreed' that due to her health issues, Peel would be the end of her race.
Jean suffered though from the early stages the race and the further she went, the worse she felt. All the way to Peel, Jean placated her husband by telling him that she would retire there as planned. However, at Peel she told him that she would just go to the next church! When she got to Kirk Michael, she told him that she would 'go to the next church'. This continued throughout the night with Brian, being concerned about her fitness, trying to 'retire' her at every checkpoint even saying that he hadn't brought enough Mars Bars to see her to the finish!
As the miles passed, she was getting weaker and she admitted to feeling 'awful' but her dogged determination made her continue, much to Brian's dismay!
The further she went though, the more confident she became that she would get to the finish.
She did find the latter stages heavy going though and it was hard for her to focus. Her legs were leaden. She was feeling unwell and she found herself walking on blisters and on auto-pilot but she knew that the further she went, the better were her chances of finishing in Douglas.
During the 85 mile race, she felt at her worst approaching Fairy Cottage, Laxey (approximately 77 miles in). Here she had to stop to be sick and have a rest. It was very hard to get going again after that but she did feel a bit better once she had drunk some water and eaten the remainder of the Mars Bar!
Of the 176 people that started the day before, only 16 finished. Jean came in 10th position and first lady (and in this year, the only lady finisher).
Given that Jean was suffering for almost the entire race, it is a statement of her will power and determination that she got to the finish at all, and her finish time somewhat suggests that she found it very tough going.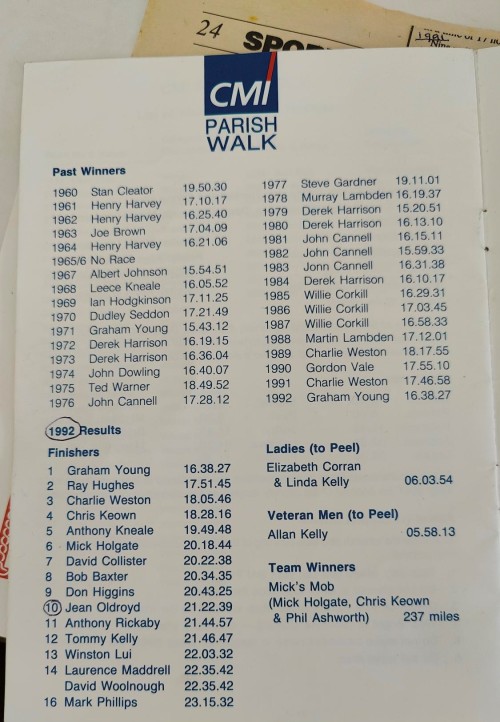 Unfortunately, Jean's health deteriorated later that year and, although she was able to go out for walks in a social capacity, it did spell the end of her Parish Walk journey.
Given that she didn't start entering the Parish Walk until she was 54, Jean's journey from novice walker to being the women's champion three times took only seven years!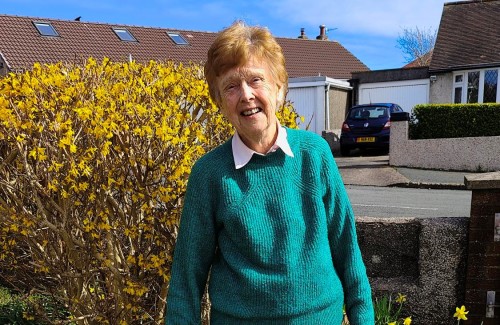 Our starter in 2023 will be a fabulous 90 years of age and although she is still very active, her walking shoes have long since been hung up and retired.
Jeans times for her three finishes are:
| Year | Time |
| --- | --- |
| 1989 | 20:55:54 |
| 1991 | 20:18:20 |
| 1992 | 21:22:39 |
Main Sponsors
---
Feed Station Sponsors
---
Additional thanks to
---
TOP