Mitch and Celia Joughin – the epitome of the Parish Walk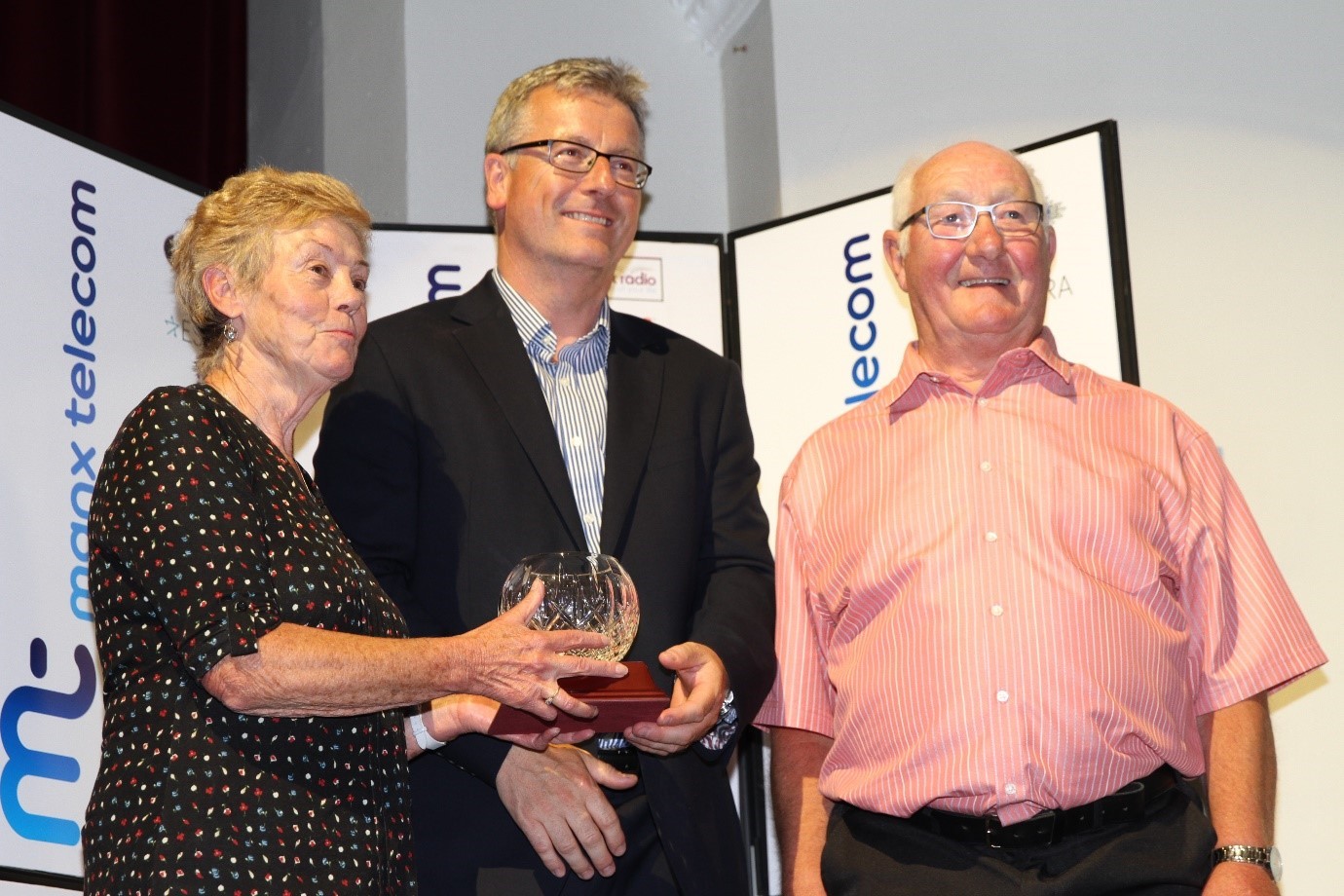 Very few people have been involved with the Parish Walk for as long as Mitch and Celia Joughin. Their involvement spans six decades, dating all the way back to when Mitch first entered the event in 1962, when he walked to Lezayre.
In the early days, the Parish Walk started on a Friday evening. "I worked at Dudley's the grocers, which was on the Terrace in Douglas" says Mitch. "I finished work early in the evening and went straight to the start line on Upper Church Street". That's how things were in the early days – three-time winner Henry Harvey and his younger brother Jim famously got to the start line with only minutes to spare in 1960 after working a full day on the family farm at Abbeylands. Incredibly, Jim went on to finished second and Henry third.
In his second attempt at the Parish in 1963, Mitch finished fourth, crossing the line on Douglas promenade in a time of 20:41:45.
"I was never going to be one of those people who did the Parish year after year" he explains. "I was quite competitive and I wanted to win it. I was the captain of the Boundary Harriers, which was the organising club of the event at that time. After getting to Lezayre the year before, I was determined to finish in '63 and Ian Turnbull and Joe O'Hanlon got me round. They had a little Ford van and used that as my support vehicle. It rained really hard in the north and it was really tough going".
For a number of years, the ladies' race started ahead of the men's race.
"I can't remember which year it was, but the men started an hour behind the ladies" Mitch explains. "It took me until Andreas to catch Irene Corlett. She was a super walker and we're still friends with her to this day."
In 1964 Mitch set a quick pace but was sadly forced to retire at Maughold, which proved to be his final participation in the event as a walker. His contribution as a volunteer with Celia in the intervening 54 years, initially as a timekeeper with Ian Turnbull and then checking-in the walkers at various churches, has been nothing short of remarkable.
Since the late 1970s, the couple have been virtually ever-present at St Patrick's Church in Jurby to check-in each walker as they pass the famous whitewashed landmark on the Island's northwest coast. The story starts, however, even earlier than that.
"We actually helped out at Ballaugh before we moved up to Jurby" says Celia. "It was a really friendly atmosphere and we used to see the same people year on year. We got really friendly with the Brew family who would come out and keep us company during the evening, but when Mitch's uncle stepped down from checking-in at Jurby we shifted up the road and we've been there ever since".
Facilities and technology have moved on quite considerably since the Joughins' first years at Jurby.
"In the first year I asked the vicar if he could open the church up so that the walkers could use the loo" Mitch explains. "He said he'd love to, but there wasn't an inside toilet! We're spoiled now, we've got a dedicated portaloo"!
It's clear from spending just a few minutes with Mitch and Celia that they have so many treasured memories of the event. Mitch is getting into his stride:
"From the checking-in perspective, it's totally different now. In the very early days Arthur Jones would mark all the churches on a square piece of oil cloth, and the checkers-in would punch each walker's cloth. Without Arthur the event would never have been revived. It's the same with the Manx Mountain Marathon. He was always waiting to hear your ideas, a really gentle man".
After the oil cloth came pieces of card, which some walkers would clip to their race number. More experienced Parish Walkers will remember these cards, but for those of us who are relatively new to the event, there are some excellent photographs in Dermot O'Toole's books 'A Walk Through Time' and 'The Ultimate Challenge' showing what they looked like. Nowadays of course, timing chips (and for this year, a timing strip on the inside of the race number) have replaced the manual paper system, but a human presence is still required at each church in case there are glitches with the technology.
"I try to keep a written record of the first 60 walkers through" says Celia. "It's not always easy especially if you get a group of them coming through at the same time."
"We tend to arrive at Jurby for about 3 o'clock and we're usually packing up by about 8.45" Celia explains. "The electronic timing things are all set up for us, we don't have to do any of that."
Getting away before 9pm is a far cry from when the couple first started, when the Parish Walk used to start at noon or in the late morning, and the couple would often still be on duty until the small hours of the morning.
"In the early days we would be lucky to get about 20 walkers through, but last year we had over 300" says Celia. "It's great to see how the event has evolved over time and to see so many people making it further and further around the course each time".
"It is quite lonely out there" adds Mitch. "In one of the first years we were up there, I was leaning on the gate in the churchyard just looking around and spotted a headstone in the name of Andrew Joughin. I later found out that he is named on the Menin Gate War Memorial at Ypres in Belgium. I don't think we are related, but it was quite moving".
It's fair to say that the facilities in Jurby aren't exactly luxurious.
"We used to have a little caravan up there, which was great for keeping warm in, but it was taken away a good few years ago" Celia reminisces. "These days we just have to hide in the car if the weather gets bad. It's nice though because we get quite a few friends coming up during the day to keep us company for an hour or two".
I ask whether Mitch and Celia have a defining memory of the event, but that's clearly a silly question because they simply have so many tales to tell.
"I remember the café that used to be at the Lhen Bridge" Mitch recalls. "The bacon rolls used to smell so appetising when you walked past. There were also a few years in the 1960s and 1970s when we had a good contingent of Irish walkers come over for the Parish. They used to stop and cook there and then carry on walking".
As is the case for so many people, the Parish is a real family affair for the couple.
"Our son Jamie and daughter Anna have both entered before and they'll be doing it again on Saturday" Celia smiles. "Anna got to Maughold last year, and it was a really poignant moment for us when she came through Jurby. Jamie made it to Kirk Michael too".
Mitch and Celia's involvement in local sport extends well beyond the Parish Walk. As well as his walking, Mitch was a keen runner and cyclist and participated in the Manx Mountain Marathon on a number of occasions. Both Mitch and Celia competed in the now-defunct Douglas to Castletown run, which started at the Fire Station on Peel Road and finished in Castletown Square. Celia still regularly plays bowls. When the first Manx Harriers clubhouse was installed on the perimeter road at the NSC, Mitch and Celia helped put it in place.
"It was just an old mobile classroom" says Mitch. "It barely fit through the gateway, there were about 2 inches to spare either side". Celia takes up the story: "Eventually it fell apart and they built the permanent building that still stands today, but we had some great times in there. We used to cook breakfasts for TT campers staying on the nearby football field to raise money for Manx Harriers. Steve and Cal Partington would come and help and we'd be cooking through the night".
The couple are also on duty in September every year for the End to End Walk, manning the check-in point at Dalby church, which is approximately 28 miles into the 39-mile event.
"We had a good laugh there last year" Celia says with a big smile. "The organisers stopped off to pick up all of the race numbers of people who had retired at Dalby, and put them in the back of the van. When the van drove past the timing mat, it went absolutely crazy, the beeping was incredible. Luckily it didn't mess up the results"!
In 2016, Mitch and Celia were totally surprised to receive a special trophy at the Parish Walk presentation in recognition of their outstanding contribution to the event.
"We were totally blown away" says Mitch. "It's a lovely piece".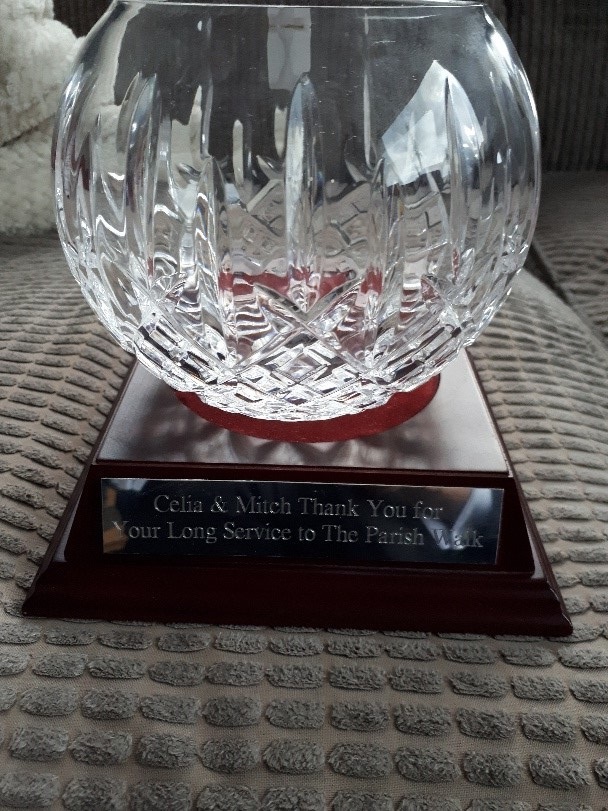 So, whether you are walking or supporting this weekend, keep an eye out for the 'checkers-in' at each church, and if you're aiming for Jurby or beyond, make sure to give Mitch and Celia a wave.
Adam Killip
20 June 2018
Main Sponsors
---
Feed Station Sponsors
---
Additional thanks to
---
TOP