Can anyone take 17 minutes and 52 seconds off the Parish Walk record?
Fri, 02 Jun 2017
This might seem like a very odd question, but there is a reason for it.
Richard Gerrard is the Parish Walk course record holder, having set the excellent time of 14 hours 40 minutes 08 seconds in 2015 when claiming his third victory in the event. The question is: can that time be beaten?
If you delve a little deeper into the gold mine of information provided by the SportIdent electronic timing system, which has been with us since 2007, the evidence suggests that the answer is "yes" and that a sub 14 hour 30 minute Parish Walk is possible.
The electronic system records each walker's split time between each church, and the times are logged in the electronic results which are accessible in the 'Archives' tab of the parishwalk.com website.
Taking a look at all the split times recorded since 2007, it is possible to piece together the 'perfect' race by combining the fastest sector times between each church. The result looks like this:
Sector
Fastest walker
Split time (h:m:s)
Year
Start to Santon
Jock Waddington
01:46:14
2011
Santon to Malew
David Griffiths
00:35:36
2008
Malew to Arbory
Richard Gerrard
00:18:02
2015
Arbory to Rushen
Richard Gerrard
00:24:20
2015
Rushen to Patrick
Richard Gerrard
01:55:36
2015
Patrick to German (Peel)
Vinny Lynch
00:15:57
2012
German to Kirk Michael
Vinny Lynch
01:05:01
2012
Kirk Michael to Ballaugh
Richard Gerrard
00:29:38
2015
Ballaugh to Jurby
Richard Gerrard
00:35:59
2015
Jurby to Bride
Richard Gerrard
01:19:06
2015
Bride to Andreas
Richard Gerrard
00:31:49
2014
Andreas to Lezayre
Michael George
01:01:55
2013
Lezayre to Maughold
Michael George
00:54:04
2013
Maughold to Lonan
Michael George
02:03:55
2013
Lonan to Onchan
Michael George
00:43:42
2013
Onchan to Finish
Richard Gerrard
00:21:22
2015
Total Time:
14:22:16
Unsurprisingly, 15 of the 16 fastest times were set by walkers who went on to win the event in that particular year. The only exception is David Griffiths' terrific time of 35 minutes and 36 seconds between Santon and Malew in 2008, a year when David walked to Rushen 'for fun' but set the pace at the front for a number of miles.
Jock Waddington on his way to victory in 2011
It is testament to just how fast the race winners are these days that only two of the fastest times were set in 2012 when Richard Gerrard and Vinny Lynch claimed victory together in 14:42.32 (which at the time was a course record) to become the first-ever joint winners of the event.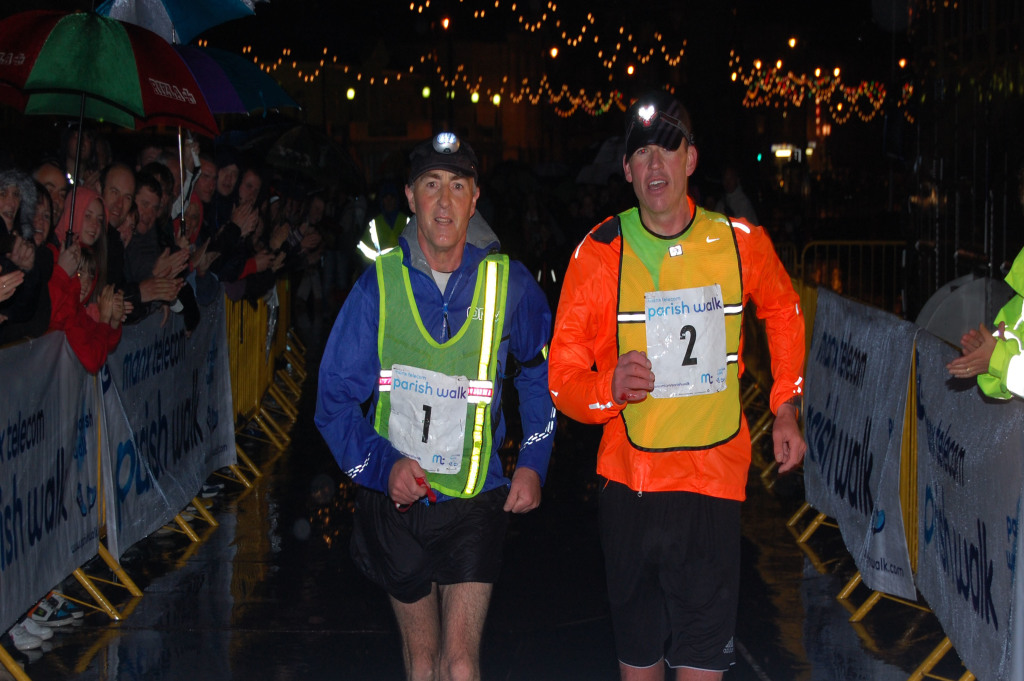 Vinny Lynch (no. 1) and Richard Gerrard crossing the line in 2012
Michael George's sector times from Andreas to the finish in 2013 illustrate how hard he must have worked in order to claim victory in what was a memorable race. At Andreas, Michael was only 13 seconds in front of Richard Gerrard, with Vinny Lynch only a further 10 seconds back. 6 miles down the road at Lezayre, Michael's advantage had increased to 2 minutes over Richard and at Lonan it was up to 4 minutes. Michael eventually won by 6 minutes and 10 seconds in a time which was only just over 2 minutes slower than the pace Richard and Vinny had set the previous year.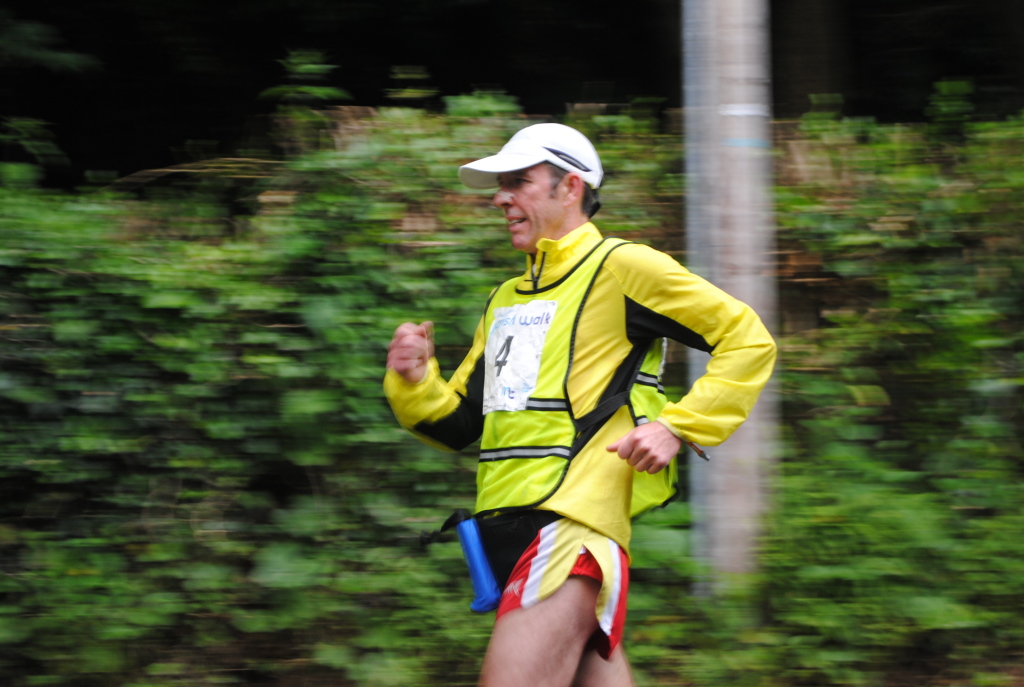 Michael George in full flow on the descent into Port Lewaigue in 2013
Setting a time of 14 hours 22 minutes 16 seconds would require someone to cover each mile about 13 seconds faster than the present course record. That might not sound like very much, but taking account of terrain, fatigue, weather conditions and all the other variables which make the Parish Walk the event that it is, it would be an incredible effort. Having said that, Derek Harrison's record time of 15 hours 20 minutes 51 seconds in 1979 stood for 27 years before Sean Hands bettered it in 2006 by over half an hour, so perhaps anything is possible…
Adam Killip – 2 June 2017
Author's note: I have not been able to access split times prior to 2007.
I am humbled to have been asked by the Lambden family to contribute to www.parishwalk.com and I hope to help contribute to keep the website running with articles and features.
---